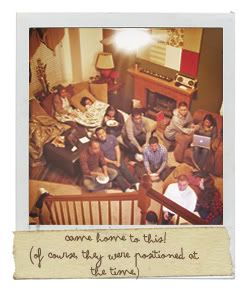 Exactly a week ago, I turned 23. Preparing for Thanksgiving allowed me to start counting my blessings early. Oh Lord, how good you've been to me! :)
It all started last
Thursday
, when my besty took me to watch the production of Rent @ CSUF. We had goosebumps & shivers from the moment we walked in! I forget that I have a soft spot for Broadway & musicals. That night was also special because we finally got to catch up! (and if you know us, that's a huge deal...sometimes we don't get to talk for
months).
We tell ourselves we'll only converse for 5 minutes, then it turns out to be morning hours by the time we finish!
FRIDAY ||
It had been a secret wish of mine that my
boyfriend would ask me out for coffee. We've never got to sit and just be in each other's presence. We've gone on dates & all, but, its only once in a blue moon where we're not rushing to catch up on a ministry, or having to do errands after..and we live kind of far from each other.. so our dates end up just being whirlwinds a lot of the time. Lo & behold, ladies and gentlemen. He asked me out for coffee! I was gleaming from ear to ear in my little office; just wanting to do a happy dance! We went after our prayer meeting and it was everything i hoped it would be :) Yes, we were that annoyingly mushy couple sitting on the couch just staring into each others eyes holding hands. haha and we didn't care that we looked so dumb! It was about 11 and he suddenly tell me that the cosby kids are about to come jumpin' out! He comes back from the restroom abruptly and tells me that his parents accidentally locked themselves outside of the house..and he just goes rushing out of Starbucks. Weird. He had never, ever...EVER left me like that... or not walked me to my car.. but I'm so gullible so i believed him.
So i get home and I notice that my brother put the Christmas lights up! I didn't even care if it was for me or not..but just seeing it up made my heart do a little tumble with gladness! So i'm rushing in to thank him for putting the Christmas lights up when all of a sudden I hear, "SURPRIIIIIIIIIIIIIIIIISE!" I darn near fell over and had a heart attack! Most of our college & youth ministry was there, and I felt so absolutely adored by everyone in that moment. Months prior, I had been praying to God, "Lord...i know that you love me,but could you please..just show me?" And that, my friends, was the cherry topping. I was so moved that everyone came even though it was already 11:30 at night! just having everyone there meant
so
much to me. And it wasn't even my birthday yet :P
SATURDAY
|| I got to spend the whole day with my lovie :) We watched a Redbox Movie, the new Disney movie "Tangled" (by the way, one of my FAVORITE movies now!)...and ended the night with presents :) He had already gave me coupons throughout the day...(free car wash, free foot massage, etc. etc.)... so i was wondering what else he had in store. hmm. He came back from his car with a book that I've been DYING to read, "Lies Women Believe!" he had no idea that I even wanted it! And as if THAT wasn't awesome enough, homeboy goes to his car again, and tells me to wait inside and close my eyes. As he tells me to open them, I see him smiling in front of my face holding a wire. And behind him.. A KEYBOARD AMP!!!!!!!!! ahhh! I"ve been needing one for years to power up my Motif, and now I can finally play it!!!!!!!!!!!!!!!!!!!!! :) So happy! This was especially sweet to me seeing as a few weeks ago, contemplated on if I should still write songs and do music. I felt so incapable of producing anything nice anymore..so.. i was asking God if it was time to just.. i guess..
give up
on my dream. But when I played those piano keys again, BAM! it all came rushing back :) Music & I are best friends, yet again!
MONDAY ||
Kai came over & we were able to talk! wow..that's like twice in one week. I MUST be dreaming ;D ...then, i couldn't believe it... but she gave me a SMASHBOX makeup palette *jaw drops*. i'll let that speak for itself. not to mention an amazingly delicious cheesecake and the sweetest note ever.
TUESDAY ||
My dad came to my work, and during my lunch hour gave me.. *drumroll please* a MICHAEL. KORS. BAG. (!!!!!!!!!!!!!!!!!) I didn't even know who michael kors was..till a week prior to my birthday, shopping at nordstrom rack. I was browsing the purses and thought.. "wow, i think mom might like this one!" then i saw the price tag of $400-500.. and
that's
how i remembered Michael Kors.
ah. its nice to be 23. i got extravagant gifts that I still feel so unworthy to receive... and just felt love from all ends of the world.
this was the year i grew closer to God so much in seeing my own wretchedness, my flaws, and my previous rebellion in obeying the Lord. I didn't even expect any thing on my birthday, and yet, he gave me ten million affirmations of His love for me..inspite of the person I
truly
am.
Thank you God, thank you everyone for the best birthday.. ever ever ever ever <3